4R Co Ltd overview your products and quote their values using skype.
Quotation number of product should be minimum one.
Your products condition will fully overviewed by our staffs in skype.
About Our Skype Assessment!
We buy your products using free online video calling application.
Through the video call our purchasing incharge will look after all the details of your product.
Purchasing incharge will give you an offer price in real time!
Please contact us for best selling experience!
Downlod Skype Application
Click the download button to get skype app.
Download and install to your device.
Create an Account
After a successfull installation of the app,
on next step please create your skype account.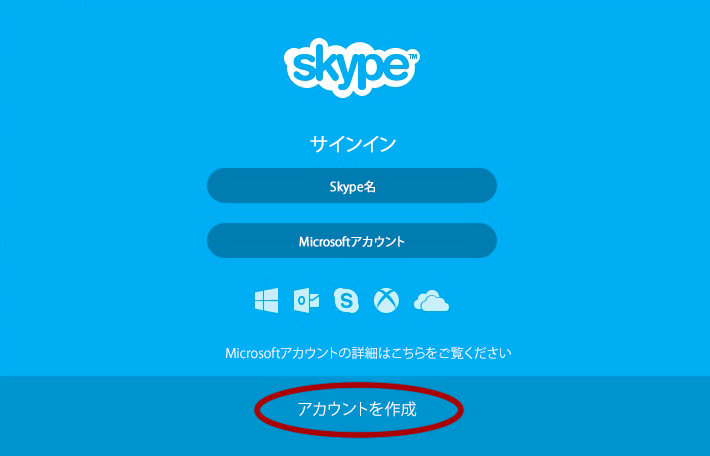 Skype Login
Please Login to your account after completing sign up process.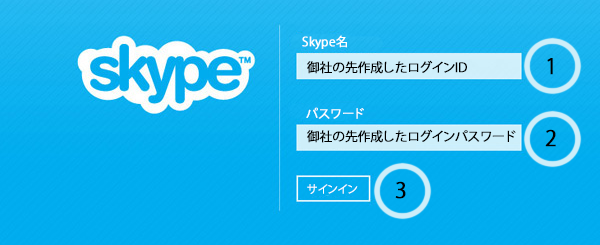 Connect with『金貨買取本舗』
After login please search for 『金貨買取本舗』
Or
Click this button to connect with 『金貨買取本舗』directly. (easy)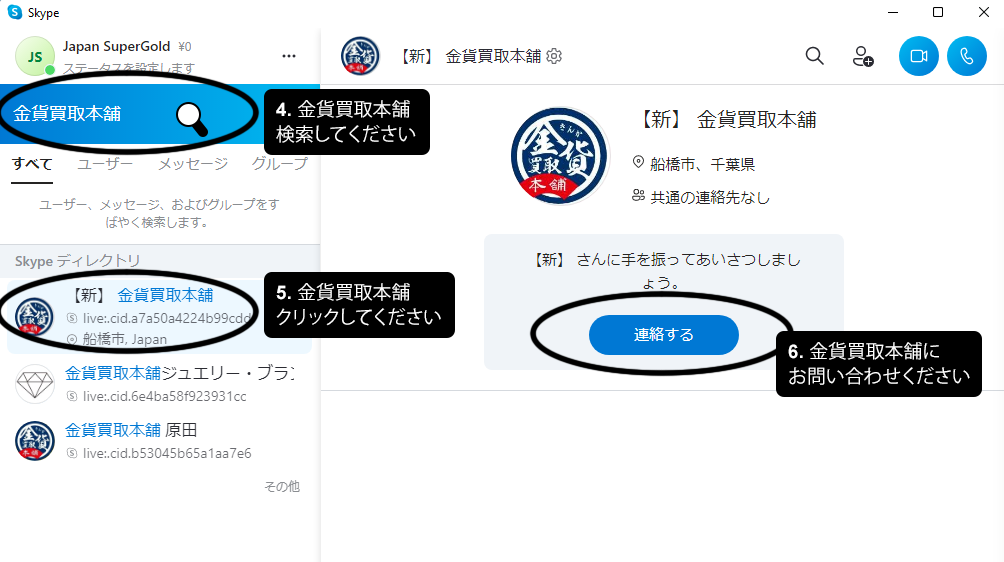 Starting Skype Assessment
Call us using video icon on top right corner of skype application.
We will assist you for further instruction after we receive a call.
Our business hour is from 10:30 to 17:30.

※We request you to read our privacy policy before using our service.
Purchase Record
We buy wide range of high brand such as Hermes, Chanel, Louis Vuitton, Accessories of Tiffany & Co, as well as No brand Jewelry. We also assess luxury watches such as Rolex, Omega etc.
Many companies inside Japan are continiously using our fast and high valued appraisal service.
We provide best value and experience, Feel free to contact us anytime.
For those who want an assessment with us.
Brief introduction of appraisal flow.
1: We will check the condition of the product while connecting a video call with our company via Skype.
At that time of video call, we will overview the damage points, weakness and additional accessories etc.
for additional information we might ask few additional questions.
2: After an final overview we will provide the assessed value price of your items.
Please note that our there will be 2,000 yen to 4,000 yen value gap on each items quotation so that there will be no misunderstanding between our company and the customer.
3: If you agree with the quotation amount, please ship it to our company address.
4: After the product arrives, we will inspect it, and if there is no problems on product condition than time of skype assessment, we will transfer the amount within the same day.
About Watches
We accept both functioning and non-functioning watches with different price values accordingly. Condition of watch will be determined on time of each items assessment through video call.
Required Documents
If you are new and want to begin skype assessment with us please send us the documents that are listed below.
For Individual

Certificate of residence (updated within 3 months of period)
Copy of recycle business license

Company

Copy of Company Registration Certificate and certificate of changes in history (updated within 3 months of period)
copy of Recycle company licence certificate
Resident card of the Representative・seal certificate・Company address verification certificate
A copy of representative's ID card
Bank acount details of you company for payment transfer.
Documents that show the relationship between the company and store listed in the registration certificate (business cards, Brochures, ads, etc.)
We request you to send the above mentioned documents along with your first assessed shipment to our address.
To make the payment since first assessment please prepare these above mentioned documents in advance.
About Sipping and Returning your item.
We will cover total shipping fee if the total amount of assessed items you are going to ship is more than 30,000 Yen.
If the total amount of assessed items are less than 30,000 yen you have to pay the shipping charges.
The product you send must be set for[午前中]early hour delivery
※ Packages that arrive in the afternoon will be inspected the following day.
As for precious metals, price will be based on the inspection date, not the arrival date.午前If you would like us to inspect your order earlier, please be sure to specify.
Regarding the return of product we will not cover the shipping fee.
Please note that the return time will be within 3 to 4 days after receiving the approval of the purchase.
Q: 商品を送って査定金額に納得がいかない場合は?
A: 着払いにてお客様の元へ返送となります。
Q: 金額に納得がいった場合は?
A: 原則として検品日翌日の振込となりますが、金曜日はお振込を停止しております。 また、大型連休や年末年始・検品が多い時期などにつきましては金融機関や当社の事情により、着金日がずれる可能性がございますので、あらかじめご了承ください。
Q: 止まってる時計も査定してくれますか?
A: 査定は可能ですが、不動品でのお値付けとさせていただきますことをご了承ください。
Q: 金やジュエリーの買取価格は査定日の相場ですか?
A: 金やジュエリーの相場は弊社で行う検品日当日のものとなります。また、週明けは相場が大きく変動する可能性がございますので、あらかじめご了承くださいませ。
Q: 壊れている商品も買い取れますか?
A: 弊社では欠品や破損のあるアイテムでも、ブランド品であればお買取いたします! また、貴金属やジュエリーはノーブランドでも査定いたします。 詳細はスカイプでご相談ください!
Q: 送料はどれくらいかかるの?
A: 買取金額が5万円以上 (税込) であれば弊社着払いにて発送いただけます。
Q: 真贋の判定はしてくれるの?
A: 基本的にはSkypeやLINEを通した真贋の判定はお断りさせていただいております。 参考程度に弊社での基準をお伝えする場合がございますが、最終的なご判断はご利用事業者様自身でお取りいただくか現物を弊社まで送って頂きますようお願いいたします。
Q: 商品名がわかりません・・・
A: 弊社担当スタッフが映像を元に商品を特定いたしますので、ご安心ください。
Q: 状態などはどう伝えればいい?
A: 使用感の有無やキズ・汚れなどをお伝えいただきたいです。 また、弊社の担当者が商品について気になるポイントをお聞きすることもございます。 商品によっては付属品の有無でお値段が変化することがございますので、状態とともに申告をお願いいたします。